Saturday, March 20, 2010
8:19 PM
Ravi Prakash Singh , Posted in
know your competitors keyword
,
spy online competitors
,
spyfu
,
spyfu review
,
0 Comments



SpyFu Detailed Review

What is Spyfu?

Are you looking for a tool which helps you to check your competition's PPC keyword list, budget of their ads, ad text, organic keyword rankings, and landing pages?
If you answer is yes… your search ends here..

The SpyFu toolset covers US and UK markets.

SpyFu Features:

• Retrieve your competitor's PPC keywords
• View their top SEO rankings, google organic rankings, and top ads for any competitor.
• View the competitor top 100-200 Most Expensive Adsense Keywords.

Spyfu Benefits:

• Export feature makes it very easier to quickly add keywords to your pay per click campaign's.
• Get competitor domain's and use them as keywords.

Detailed Review:
SpyFu is an online tool for competitive intelligence application that allows its user to browse your competitors' PPC keywords, daily budget, bid prices, clicks/day, and other interesting PPC facts & statistics.
The tool is very useful for lookup and checks the competition and receive unseen new keywords.

When you first visit SpyFu, you will see that you can find large number of keywords and information without having to pay for subscribe. So exactly what's the advantage of a subscription?

First one, you get a lot more data and statistics (the free version gives you just the top 10 keywords for any competitor). With the paid subscription, you can uncover thousands of keywords.

You also get to see more competitors for any targeted keyword, browse all the ads that are running for any of your PPC competitor, and get to see more related keyword terms.

I compared some of the competitive data that SpyFu provides with my actual campaign statistics, and noticed that SpyFu is doing really accurate. For example, one of my clients spends about $150/day on Adwords, and SpyFu says the daily budget is $140. I performed another search for a different domain and also noticed accuracies with the reporting.It may be more or less shows accurate data.

So you can understand how important tool it is. In fact, typing in a domain and seeing every PPC ad text that a competitor is running is very useful. I'm using this feature to research niches, discover new keywords, and create more unique ads for my campaign split testing.

It also shows me the destination URL for each ad, so I can see how my competition is using landing pages.

Second way to use the data is to view the "Top Organic Competitors" for a competitor's domain, and then export all the domains listed into Adwords. I use the domains and main keyword as keywords from the competitors. So for example, if someone types in "mysite.com" into Google, my ad appears. It's an easy way to get clicks in less price, since there's not a lot of competition for these keywords.
The results gives a list of keyword phrases that a domain appears for in the top 10 of normal search. So if you do a search on Google for the keyword, you will find them listed. It makes good keywords to add to your PPC campaigns.

Overall, I would say SpyFu definitely has it's uniqueness and advantage , with the best feature being the ability to look all keyword the competition is to bid on, the adword and ad text, and the landing page destination URL they are using.
SpyFu monitors nearly 5 million domains, showing you exactly how much your competitors are paying for search advertising and keyword on a daily basis, the total number of clicks they are getting, and their average ad position. SpyFu also retrieve the exact keywords that your competitors are ranking for in search and who are your top 100 competitors.

Cost:

• Monthly Subscription ($59.95/Monthly)
• Yearly Subscription ($395)


Visit the SpyFu Website--->

Chk out this Video Review of SpyFu:





SpyFu's toolset includes:
SpyFu Kombat
SpyFu Classic
Keyword Ad History
Domain Ad History
Keyword Smart Search
A Variety of Top 100 Lists
SpyFu Kombat
With SpyFu Kombat you can look at overlapping and site specific keywords for up to 3 websites. For the PPC version you can also see a chart which goes back over a period of a few years showing the overall amount of keywords being bid on by all three sites. You can also rollover the chart to see keywords specific to just 2 of the sites if you feel the 3rd site may not be doing as good a job (or vice versa) as 2 of the other sites. It will also show you the PPC budgets of the sites as well as the number of organic keywords ranking in the top 50 results for said keyword.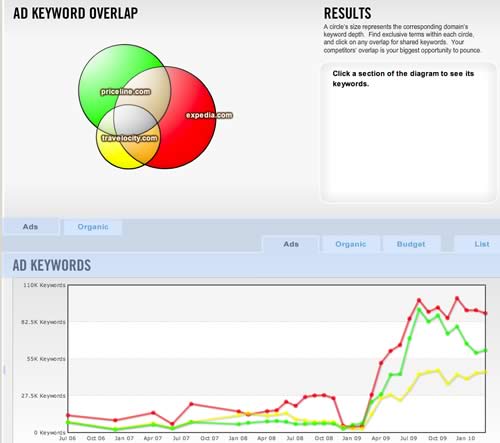 When you click on an area of the circle chart it will show you the keywords in whatever bucket you click, to the right of the chart. You can view and download those keywords for your own use. As you can see I am on the ads tab but the options are similar when you click on the organic tab (on the top box, the organic one on the bottom shows you total organic keywords).
Switching between the organic tab and the ppc tab (as well as the overall # of organic keywords + PPC ad budget should also give you an idea of which of the bigger sites are more into the PPC or SEO side of things which can be a good barometer to look at if you happen to be concentrating on one area over the other.
SpyFu Classic
SpyFu Classic is the "flagship" section so to speak. This is where you enter one domain on the home page and are presented with a TON of data including:
Daily AdWords PPC Budget
Links through to SpyFu Kombat
Average Position of Ads vs # of Advertisers
Estimated Value of Organic Traffic (estimated traffic with a variable of CPC factored in)
Paid Traffic Compared with Organic Traffic Estimates
Subdomains (useful for looking at how a site might break out parts of the main domain, perhaps a good spot to look for niche keywords???)
Top Ten Paid Keywords w/ Keyword Ad History (links through to full Keyword Ad History tool)
Total Paid Keywords
Total Organic Keywords
PPC Competitors (with a link to overlapping keywords)
Organic Competitors (with a link to overlapping keywords)
Category
In addition to searching for a domain SpyFu let's you search by keyword as well, as shown below: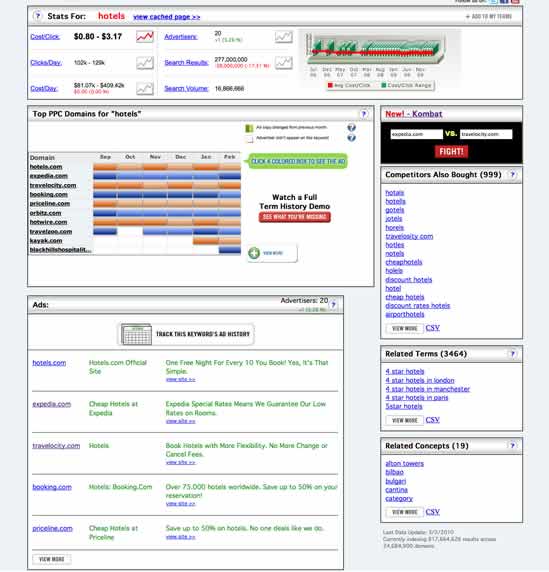 The data here can be useful, as you can see the:
Estimated PPC, Clicks, Cost Per Day, Total Advertisers...all with trend data
Top Ten Domains Advertising on the Keyword, with Domain Ad History
Additional Keywords Purchased By Relevant Domains
PPC Ad Copy with a Link to Keyword Ad History
Top Ten Organic Results with Title, Meta Description
Related Terms
Related Concepts (based on semantic relationships)
Categories
Keyword Ad History
Keyword Ad History will show you, via color coded bars, how often the keyword appeared in a domain's PPC campaign along with any changes in the ad copy (all of which can be exported to excel). It shows a year's worth of data up front and goes back to 2006 via the Bonus History Button.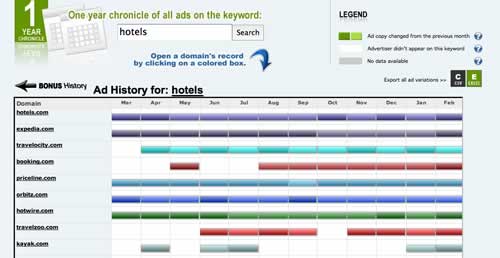 So it's pretty straightforward, which is what I like about SpyFu Tools. No over-reliance on "in-house metrics" it's just "here's the ad history of the keyword", plain and simple. Typically, if you see a keyword being advertised on by a good PPC advertiser consistent then you can look to apply that ad copy technique to a niche market of that larger keyword. If I were advertising for "hotels in Oklahoma" I might pay attention to what ad copy has been successful, over time, for that main/core keyword "hotels".
Domain Ad History
Domain Ad History is similar to Keyword Ad History except it shows the keyword history of a particular domain:


This tool is useful in looking at keywords that have been successful for your competitors (or larger players in your niche) and which ones they tried and abandoned (which could be ones for you to avoid out of the gate). All of this assumes the domain you are researching is competent PPC advertiser.
Keyword Smart Search
The Keyword Smart Search tool in SpyFu uses semantic word relationships, publicly available keyword data, and PPC campaign data to return a list of keywords related to the keyword(s) (up to 10) you enter. As you can see, you can also filter by CPC, search volume, and you can also exclude keywords: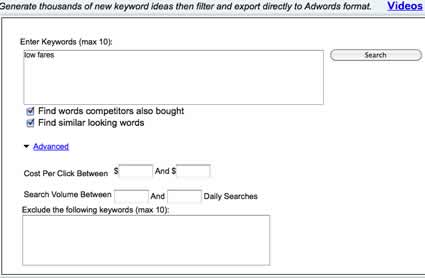 Here is a screen shot of the results page for Keyword Smart Search:

For me, I prefer to use the PPC keywords and the Organic keywords found in either SpyFu Classic or SpyFu Kombat. I like to use other tools for pure keyword research (Google tools, Microsoft Ad Center Intelligence, and Wordtracker). Primarily, I feel SpyFu is at its best when used as a competitive research tool versus a keyword research tool.
Visit the
SpyFu Website--->